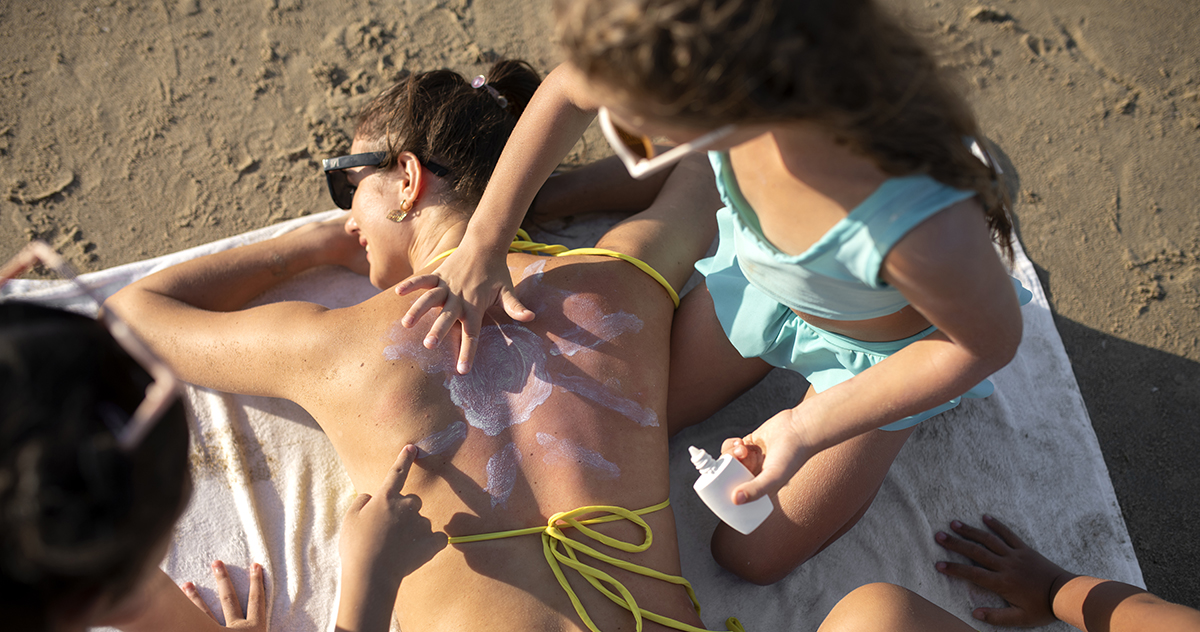 Summer has arrived, and so have the bright sunny days that come with it. Say hello to vacations, picnics, beach days, and time with the kids splashing in the pool. But nothing can dampen the fun in the sun like a red, blistering sunburn from not using enough sunscreen, or even just forgetting to reapply it. But did you know that the sunscreens that protect us can also be harmful?
Sunscreens create a catch 22: they protect us from the sun's harmful rays and the development of skin cancer, but some of the ingredients in many popular sunscreens are carcinogenic themselves. Navigating this minefield can be difficult: Which sunscreens protect without causing harm at the same time? How can you differentiate between the complicated ingredient lists on sunscreen labels?
That's exactly what we're outlining for you in this blog. Below is a list of ingredients that are RED flags on sunscreen labels, along with ones that have been shown to be effective in protecting against UV rays without the carcinogenic side effects.
Sunscreen Chemicals to Avoid
1. Octocrylene
Octocrylene is a common ingredient in sunscreens, and unfortunately, research has shown that it breaks down into a carcinogenic chemical, benzophenone. The breakdown can occur due to exposure to high temperatures; for instance, if you store your pool bag and sunscreen in a hot garage or leave the octocrylene-containing sunscreen out in the sun during a beach day.
It's believed that octocrylene's degradation into benzophenone is what causes a skin reaction in some people to sunscreen (breaking out in rashes, for example). Its original use was as an herbicide! Clearly, it's not amicable to living tissue, and contact needs to be avoided.
While it's not a guarantee that every octocrylene sunscreen will have benzophenone contaminants, the researchers believe it is highly likely the carcinogen is in a majority of these products. So avoid sunscreens containing octocrylene!
2. Benzene
Benzene is a known carcinogen; the FDA contends that no level of exposure to benzene is safe. You will not see benzene on a sunscreen label, but the major sunscreen recall in 2021 was due to the levels of benzene found in various sunscreens from major brands like Coppertone, Johnson & Johnson, Neutrogena, and more.
Benzene is mostly present in aerosol sprays – as such, it may be safer to opt for cream sunscreens rather than the sprays, especially because of the ease of accidentally inhaling spray sunscreens and the potential chemicals in them.
To avoid benzene exposure, check any sunscreen bottles you have from the past few years and see if they have been listed in 2021's recall below:
And stick to cream or lotion-based sunscreens rather than aerosol sprays.
Neutrogena Beach Defense
Neutrogena Cool Dry Sport
Neutrogena Invisible Daily Defense
Neutrogena Ultra Sheer
Aveeno Protect + Refresh
Coppertone Pure & Simple SPF 50
Coppertone Pure & Simple Kids SPF 50
Coppertone Pure & Simple Baby SPF 50
Coppertone Sport Mineral SPF 50
Coppertone Travel-size Sport Spray SPF 50
3. Additional Ingredients
The FDA has recognized a variety of ingredients that you will see listed on a sunscreen label (unlike benzene) as unsafe and largely ineffective. The list below highlights the other ingredients that are believed to have effects similar to octocrylene.
The major issues with all of these chemicals is they lead to high levels of absorption into the bloodstream. In other words, after applying, the chemicals listed below in the sunscreen are absorbed through the skin and into the bloodstream. This is where the carcinogenic effects of sunscreen ingredients can take hold.
Avobenzone
Ensulizole
Homosalate
Octinoxate
Octisalate
Oxybenzone
These are a lot of odd names to remember, so we recommend copying the list above and pasting it in the notes app on your phone. Next time you're prepping for a beach trip, you'll know to avoid these chemicals and opt for the ones we discuss below. 
Sunscreen Chemicals to Select: Titanium Dioxide and Zinc Oxide
The FDA only recognizes two compounds as safe sunscreens: titanium dioxide and zinc oxide. Both of these are "mineral sunscreens" and they are effective because they block the absorption of UV radiation into the skin. If you use one of these mineral sunscreens, you'll notice how they are much thicker (and require some muscle to fully rub in). Other sunscreens are believed to instead absorb the radiation from the sun itself.
The success of mineral sunscreens is the limited absorption into the body when applied to the skin. The carcinogenic effects of other sunscreens is likely due to the high level of absorption of the harmful chemicals into the body.
Additionally, it is believed that mineral sunscreens are healthier for the environment than other sunscreen chemicals. Coral reef degradation can be a side effect of the harmful chemicals in sunscreens, and zinc oxide and titanium dioxide are believed to be generally safer for the ocean environment.
A few important tips with mineral sunscreens:
Be sure to reapply every two hours. This is important with any sunscreen, but it's especially important with mineral sunscreens, particularly if you're sweating or swimming a lot!
Really rub it in. You'll notice that these sunscreens are thicker, and can leave you looking like a ghost if you don't rub it in quite enough. This isn't a true problem, but just something to note before using them for the first time!
Avoid mineral sunscreens that list zinc oxide or titanium dioxide alongside chemicals on the list above (avobenzone, especially!) It's believed the two chemicals can join forces, mutate, and create new harmful chemicals. 
Shake mineral sunscreens before use—they are more likely to separate in the bottle.
In short: opt for a simple, mineral sunscreen and reapply often when using. If it's a chemical other than titanium dioxide or zinc oxide as the active ingredient on the label, don't pick it up. This is how you can protect yourself from harmful UV radiation and unnecessary chemical exposure—fully enjoying your day in the sun!
You can see a list of our recommended sunscreens below.
Sport Sunscreen:
365 Everyday Value Sport Mineral Sunscreen Lotion, SPF 30
EWG Rating: 1/10 (1 Best, 10 Worst)
Baby / Kids Sunscreen:
Pipette Mineral Sunscreen, SPF 50
EWG Rating: 1/10 (1 Best, 10 Worst)
Babyganics Sunscreen Stick, SPF 50+
EWG Rating: 2/10 (1 Best, 10 Worst)
Non-Mineral Sport Sunscreen:
Alba Botanica Hawaiian Sunscreen Lotion, Aloe Vera, SPF 30
EWG Rating: 2/10 (1 Best, 10 Worst)
Facial Moisturizers with SPF:
Cocokind Daily Facial Sunscreen Lotion, SPF 32