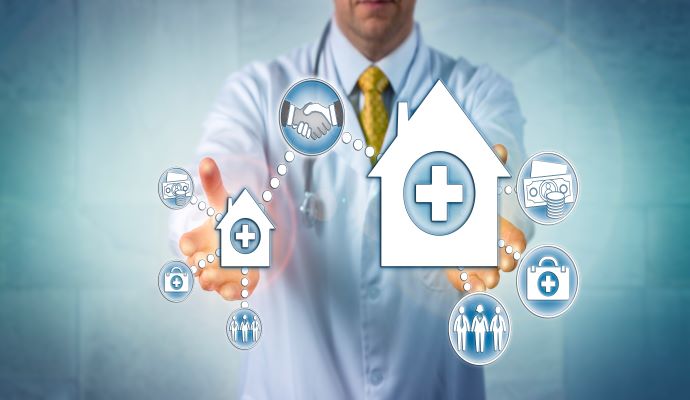 Provided by PA Consulting Group, new data indicates that not only do healthcare providers have the necessary tools to transition to hospital-at-home services, but they also believe these services will save patients time and money. 
Despite their existence prior to the COVID-19 pandemic, virtual care services grew dramatically during the public health emergency. Although many intended for these tools to be a temporary substitute for in-person care, they provided new levels of patient support and care access.
According to the FAIR Health Monthly Telehealth Regional Tracker, telehealth use increased nationally and in all US Census regions in January. Although there were variations in telehealth type and treated specialties, this data highlights the ongoing high usage of virtual care.
PA Consulting's Healthier at Home report shows a similar trend for hospital-at-home services. For the report, consultants surveyed 550 leaders across MedTech, pharma, and private and public healthcare.
Prior to the COVID-19 pandemic, 35 percent of respondents noted that their organization provided at-home care solutions for patients. However, this share is now 43 percent. PA Consulting Group indicated that home-based solutions could provide various benefits, such as lessened costs, lower pressure on health systems, improved care access, and enhanced patient quality of life.
PA Consulting Group also noted other findings supporting the popularity of at-home hospital care, such as 72 percent of US respondents feeling that increased at-home hospitals will positively affect society. In addition, 74 percent of US healthcare leaders are prioritizing solutions to support moving care delivery from the hospital to the home.
The report also provided details regarding the role of MedTech and pharma in this transition. Currently, 76 percent of global MedTech and pharma leaders aim to shift the site of care through products, and researchers expect a 25 percent growth in these products by 2027.
"The tremendous value of preventative care and early intervention is no hidden secret. As budgets shrink and demand for flexible, personalized care grows, healthcare, MedTech, and pharma leaders have an opportunity to build an ecosystem of care that benefits patients and providers," said Vignesh Ramesh, a digital health expert at PA Consulting, in a press release. "Our research highlights that the need for improving the patient experience, relieving pressure on the healthcare system, supporting health equity, and reducing costs – all can be done through the move from hospital to home. This report is a playbook to help hospital and healthcare providers, as well [as] MedTech and pharma leaders, succeed in the hospital to home revolution."
Healthcare providers have indicated their interest in launching hospital-at-home services.
In April, a leader from the Ohio State University Wexner Medical Center (OSU Wexner) provided details regarding its hospital-at-home program, along with the barriers to implementation and the patient benefits reaped. 
According to Christy Murdock, director of post-acute operations at the health system, patients received the model well. She noted that this program also helped providers determine care gaps and supported the hospital in managing resources efficiently. 
However, Murdock also noted the hurdles that arose during the implementation process. These issues were related to the need to create new clinical workflows to support the patient transition from hospital to home settings and vice versa. There were also challenges surrounding provider engagement and technology workflows.
To counter these difficulties, the hospital took steps such as providing education on the program to clinicians and patients and working with IT to improve and maintain the technology infrastructure.