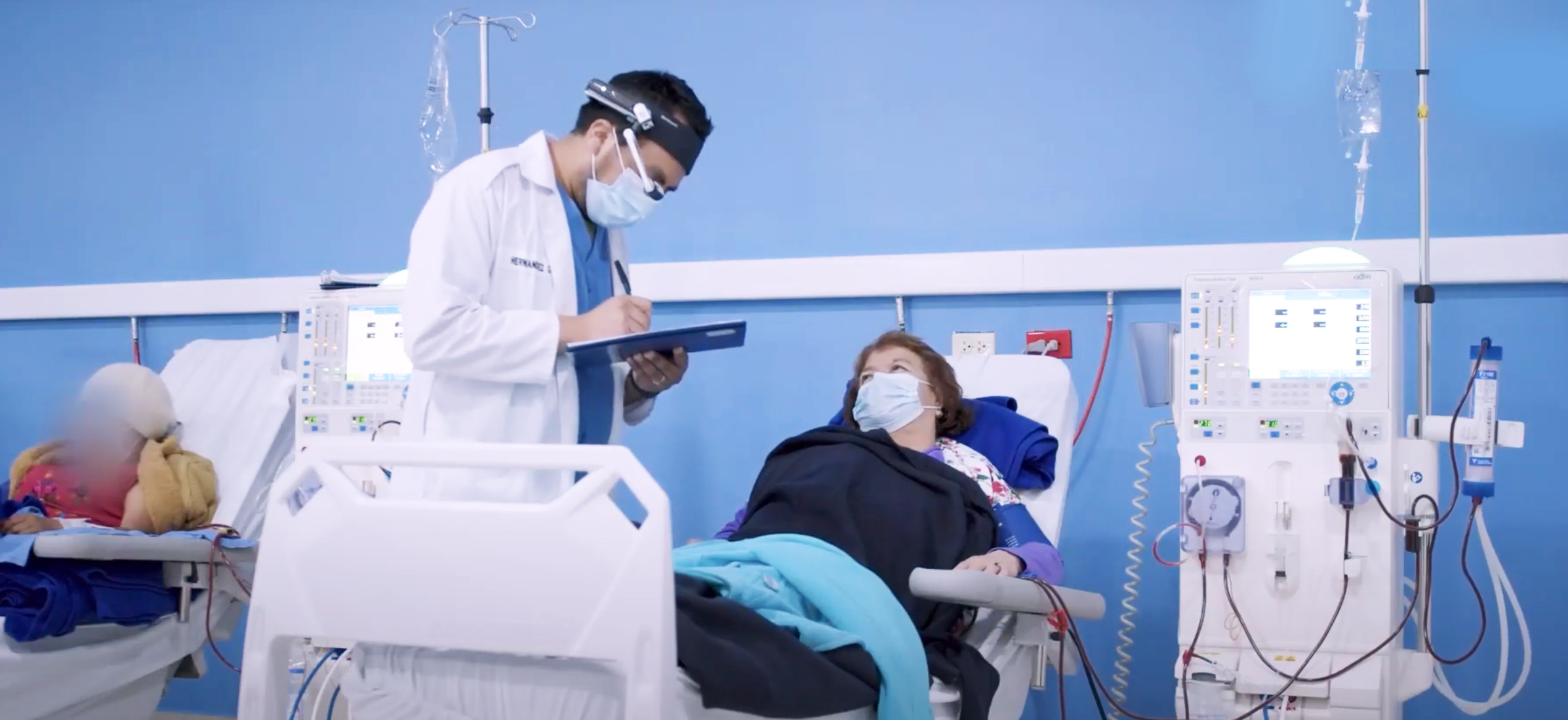 Nephrology is the subspecialty of internal medicine that focuses on the diagnosis and treatment of kidney diseases. And, like many other medical specialties, it's facing a critical shortage of providers for a variety of reasons:
COVID-19 infections have increased the amount of kidney injuries in as many as 43% of patients in some hospitals, which in turn increases the demand for dialysis.
The increased demand has pushed providers and staff to their limits, resulting in even higher than usual turnover rates.
Dialysis specialists require extensive training and technical skills that can take months to learn.
Nephrologists and kidney specialists are increasingly located in urban areas, making it hard for people in rural settings to access them.
In Guatemala, there are over 230 patients receiving dialysis treatment in decentralized clinics located more than 200 kilometers away from the capital. These clinics are located in the municipalities of Cobán, Morales, and Zacapa and are more than three hours away from each other.
The clinics are staffed with technical assistants, nurses, and one internist on-site – but not enough specialists. Nephrologist Dr. Weynin Sierra is one nephrologist who travels weekly between the three clinics, spending several hours traveling. When the subject of using Hippo Virtual Care™ was broached, Dr. Sierra was eager to try it.
"Using the Hippo Virtual Care headset and platform will save us time, because right now, moving from one unit to another takes us 3-4 hours. This will help save us time, gasoline, and will allow us to expand our clinics," he said.
Using Hippo Virtual Care, Dr. Sierra is able to conduct visits remotely by connecting with Dr. Byron Hernandez, an internist in Cobán who wears the hands-free voice-enabled headset during a patient examination, paired with our HIPAA-compliant virtual care software. Unlike traditional telehealth, Hippo Virtual Care provides a "U see what I see" perspective to the observer, as well as remote control functionality to orient the camera, allowing remote physicians to conduct an exam as if they were physically in the room.
For 30 minutes, Dr. Sierra is able to supervise the internist's rounds – seeing, hearing, and speaking to his patients who are in a clinic 3-4 hours away – and deliver instructions to Dr. Hernandez in real time.
By incorporating next-generation virtual care into clinical practice, patients in rural areas like the decentralized clinics in Guatemala can more easily access the specialist care they need. Hippo is bringing a new dimension to telenephrology, allowing complex care to reach patients even when they're far away from clinical specialists.
Learn more about Hippo Virtual Care™ and how it can save your team time, money, and increase the quality of care you give to your patients.