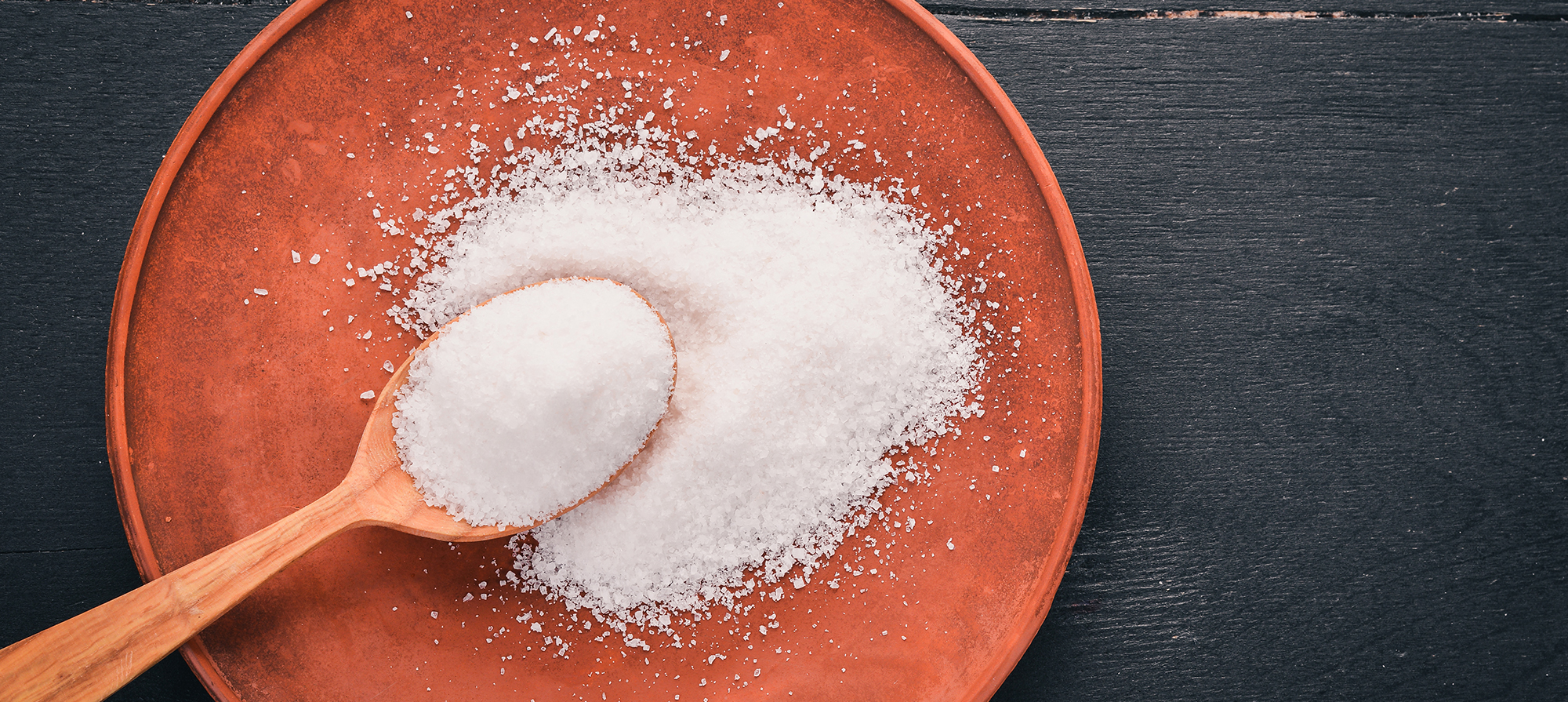 Hypertension, commonly known as high blood pressure, is a catalyst for heart disease and stroke, two of the leading causes of death in the United States. Nearly half of the adults in the US have high blood pressure (characterized by a blood pressure of 130/80mmHg or higher) and only one quarter of those are properly managing their condition. Hypertension is known as the "silent killer". Because there are no warning signs for high blood pressure, many people are unaware that they are living with this condition, and thus do little to maintain control over it.
Have you ever heard the saying: "Be careful what you believe, even salt and sugar look alike"?
Allow me to apply it in de-bunking a common myth about hypertension. While salt and sugar have similar characteristics in terms of size, shape, and coloring, their effects on your body couldn't be farther from the same. Many people believe excess salt intake to be the primary cause of high blood pressure. Physicians are unestablished on where this consensus arose from, as studies dating back 100 years have been unable to indicate a positive correlation between salt intake and blood pressure. In fact, a 1998 review study comparing dietary sodium intake and mortality rates actually found little correlation between the two, indicating that decreasing your salt intake can lower your blood pressure, but that was only found to be a short-term fix. To that end, a study published by the American Journal of Medicine in 2006 examined a similar relationship and actually found that too little salt (<2400mg/day, as advised by the AHA) can significantly increase your risk of heart disease by 50%.
So, if it's not just salt, what is the culprit behind hypertension? You might've guessed…it's the not-so-sweet "look-alike", Sugar.
Obesity, insulin resistance, and increased levels of Triglycerides have been dubbed the Triad of Hypertension. The commonality among them? Sugar. Let's break them down one-by-one:
Obesity. There are a lot of factors at play when correlating obesity and hypertension. Obesity can alter your sympathetic nervous system (your body's fight-or-flight response) and induce hormone signaling pathways. One important effect of obesity is the over-compression of your kidneys, which is caused by the increase of visceral fat tissue in your midsection. Your kidneys work to excrete water and regulate the salt levels in your body to maintain the body's blood pressure. But the increased stress caused by the excess visceral fat tissue can inhibit proper kidney function, which in turn, causes high blood pressure.
Insulin Resistance. Insulin resistance occurs when the cells in your body are unable to use insulin effectively. Due to this, your body attempts to produce more insulin, leading to increased levels of glucose in the blood, increased water and sodium retention, and, as a result, increased blood pressure.
High Levels of Triglycerides. Triglycerides are a form of fat created by your body after eating, which your body will store for energy use between meals. High levels of triglycerides can occur from over-eating, under-exercising, and high consumption of alcohol. When your body encounters a chronic build-up of triglycerides in the blood, your arterial walls begin to harden and thicken, causing them to narrow. The excess strain on your arteries will, in turn, increase your blood pressure and cause hypertension.
Now that we've uncovered the medical causes behind hypertension, here's how you can manage your blood pressure to prevent hypertension.
Eat well. Your body requires sufficient nutrients to survive. Eating a well-balanced meal is incredibly important in allowing your body to reach its peak performance.
Exercise. It is crucial to allow your body some movement daily. Yoga, walking, or an at-home workout video are great ways to manage your weight and ensure you are keeping your blood pressure under control.
Limit your sugar, salt, and carb intake. Processed foods are chock full of excessive amounts of salt and sugar, both of which are negatively impacting your blood pressure.
Avoid excessive alcohol consumption. Many alcoholic beverages contain high amounts of sugar and carbs, which are directly affecting your blood pressure. Excessive consumption of alcohol is also a common cause of obesity.
Eat anti-inflammatory foods. Healthy fats, such as fish, eggs, turkey, avocadoes, and nuts are great sources of antioxidants, and help to limit inflammation of your blood vessels and reduce your blood pressure.
Avoid inflammatory foods. While anti-inflammatory foods can lower your blood pressure, inflammatory foods can significantly increase your blood pressure. Grain products, fried foods, processed foods, soda, fast foods, and commercial salad dressings are all known to cause inflammation in your blood vessels. It's best to avoid these to reduce your risk of hypertension.
Excess salt intake is blamed for hypertension, and while it can have negative effects on your blood pressure, excess carb and sugar intake are stronger forces causing hypertension. People with high blood pressure should take care in limiting their salt intake but be conscious in avoiding excess amounts of carbs and sugars, as well. Remember, you're sweet enough already!
Read more on the 1998 review study here: https://www.thelancet.com/journals/lancet/article/PIIS0140-6736%2897%2909092-2/fulltext
Read more on the 2006 second NHANES study here: https://www.amjmed.com/article/S0002-9343%2805%2901046-6/fulltext
You may also be interested in this book where evidence points to other factors beyond salt as the enemy of good health: The Salt Fix – How Experts Got it Wrong