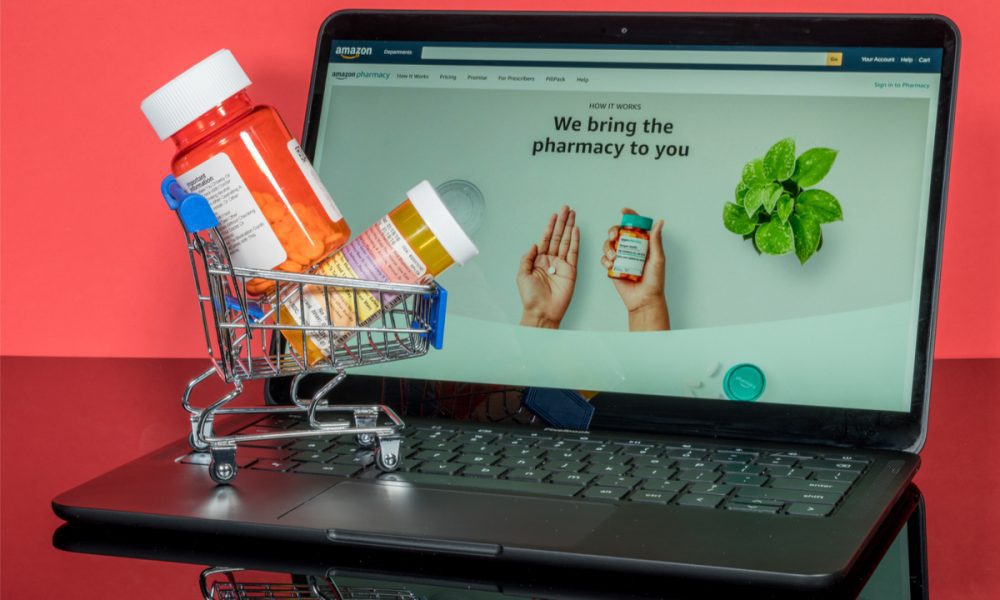 By PYMNTS
The celebrity cage match featuring Amazon and Walmart is carrying over into healthcare big time as the two retail rivals push further into health technologies, pharmacy and treatment.
The American Hospital Association (AHA) summed it up well in a recent blog post, saying, "If 2021 will be remembered as the great expansion of retail health care, 2022 is likely to be defined as the year of disruptor differentiation. The massive push by CVS Health, Walgreens, Amazon and Walmart to scale primary care services — in person, virtually and in some cases at home — rapidly took shape last year."
Focusing on the two titans — Amazon and Walmart — they've been tracking each other's movements in the sector with surprising sameness in specific categories like pharmacy and telehealth, but each has innate strengths, which they're leveraging.
For Walmart's part, it's got the stores — close to 4,800 in the U.S. alone. That's an advantage for pharmacy and walk-in retail health clinics that are proliferating partly as a pandemic response, and also due to rising healthcare costs and the promise of a less expensive doctor visit.
During its fiscal fourth-quarter earnings call on Feb. 17, Walmart U.S. President and CEO John Furner told analysts that healthcare is part of the chain's own "flywheel" — possibly a dig at Amazon — adding "the health business was our fastest growing comp business in Q4."
Among Walmart's high visibility moves in healthcare, the company acquired telehealth platform MeMD in 2021 to strengthen its position with a connected and accessible "omnicare" model.
In a statement on MeMD's acquisition, Walmart Health Executive Vice President, Health and Wellness Dr. Cheryl Pegus said, "Today, people expect omnichannel access to care, and adding telehealth to our Walmart Health care strategies allows us to provide in-person and digital care across our multiple assets and solutions."
The company also partnered with electronic health record (EHR) systems provider Epic last year in an effort to "engage patients, health care professionals, insurance carriers and other stakeholders while enhancing communication, personalization and information sharing amongst health care professionals and patients utilizing a patient portal," per a press release.
Amazon doesn't have the stores, but it's got the online scale and digital wherewithal to combine pharmacy, telehealth and devices into a connected economy approach to healthcare.
On Feb. 8, Amazon announced it is taking the Amazon Care telehealth platform from pilots to primetime with a national rollout to over 20 U.S. cities expected in 2022.
In its announcement, the company said, "Amazon Care is uniquely positioned to fill a critical gap in the health care system because it combines the best of virtual care with a new approach to in-person care. The combination allows patients to receive a wider range of care, from on-demand primary care to chronic care management, in the comfort of their home."
By taking Amazon Care via the in-home route, and with Seattle-based Care Medical providing in-person visiting doctors, nurses and caregivers when needed, it's the "disruptive differentiation" the AHA spoke of, manifesting in whole new modes of healthcare delivery.
Much of the battle between the nation's two biggest merchants comes down to pharmacy and the ways in which the Rx experience is being streamlined and, to an extent, cost controlled.
Through its Walmart+ program, Walmart launched its 'Rx for Less' offering last year.
In a press release, Walmart U.S. Executive Vice President and Chief Customer Officer Janey Whiteside said, "We're designing Walmart+ to be the ultimate life hack for our customers. It's been our commitment from the beginning to continue to grow the suite of benefits we offer Walmart+ members. We know we can use our size and scale to help simplify things for our customers in a way only we can."
A few months later, Amazon Pharmacy celebrated its first year in business, announcing in December that former Amazon Prime chief Neil Lindsay will lead Amazon Health, triggering media speculation as to how Lindsay might bring cross-pollination to its efforts in the space.