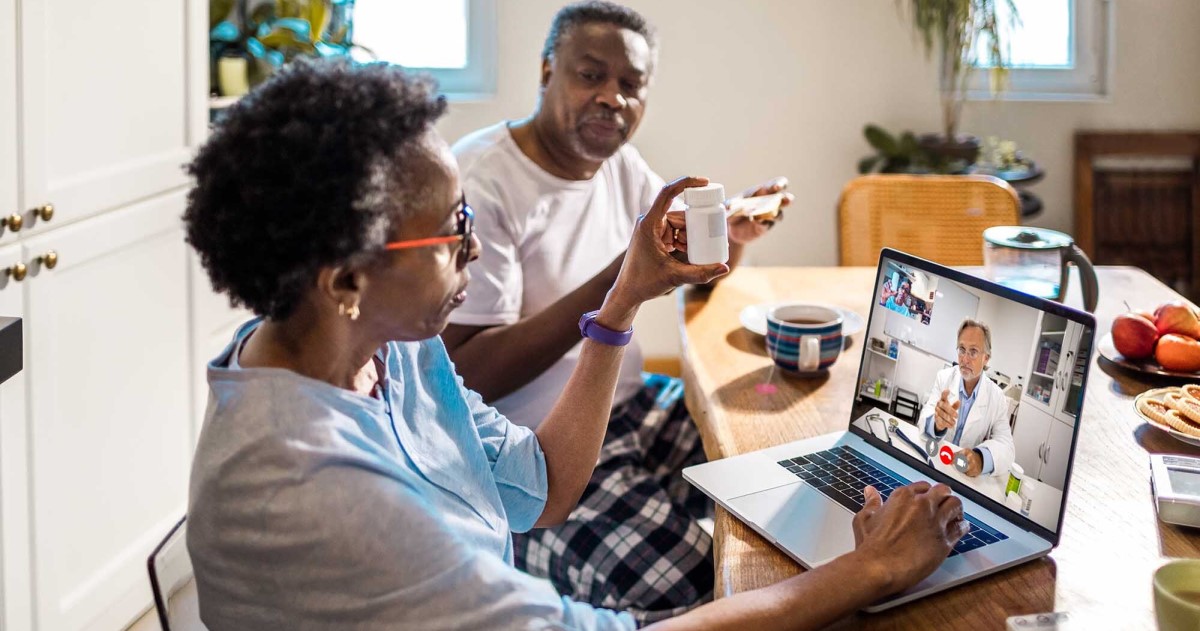 By Bill Siwicki
When it comes to the COVID-19 pandemic and health IT, if there's just one thing that everyone can agree on, it's that telehealth has gone mainstream. Thanks to new regulations from the government and subsequent new rules from commercial payers, telemedicine services are being reimbursed.
These factors shot telehealth and related technologies and services like connected health and remote patient monitoring through the stratosphere. Consequently, investing in these areas today versus two years ago requires very different considerations.
Welcome to the third installment in Healthcare IT News' latest feature series, "Health IT Investment: The Next Five Years." This third feature focuses on telehealth, connected health and remote patient monitoring.
Here we speak with health IT leaders, primarily CIOs, to learn from them the path forward through the priorities they set with their investments in six categories: AI and machine learning; interoperability; telehealth, connected health and remote patient monitoring; cybersecurity; electronic health records and population health; and emerging technology and other systems. 
Click here to read the first feature, on AI and machine learning, and click here to read the second feature, on interoperability.
The health IT leaders discussing their plans for the next five years in this third installment in the series include:
Cara Babachicos, senior vice president and CIO at South Shore Health, a health system based in Weymouth, Massachusetts.
Matt Hocks, COO at Sioux Falls, South Dakota-based Sanford Health, a $6 billion health system serving a predominantly rural population over a four-state footprint with both payer and provider arms.
Dr. J. Michael Kramer, chief medical informatics officer at OhioHealth, a health system based in Dublin, Ohio.
Mike Mistretta, vice president and CIO at Virginia Hospital Center in Arlington.
B.J. Moore, CIO of Providence, a health system that operates 52 hospitals across seven states – Alaska, Montana, Oregon, Washington, California, New Mexico and Texas.
Michael Restuccia, senior vice president and CIO at Penn Medicine in Philadelphia.
Dr. Umberto Tachinardi, CIO at Regenstrief Institute in Indianapolis, Indiana.
Board members, fellow C-suite officers, IT managers and workers in the trenches have much to learn from the expert guidance in this latest feature article in the series.
'A big investment for us'
Prior to the COVID-19 pandemic hitting, just 39% of hospitals and health systems were using or planning telehealth offerings; as a result of the pandemic, 53% added telehealth to their roadmap, according to new HIMSS Media research. Now, telehealth is in the top three focus areas (92%), the research shows.
There is no doubt that telehealth is seeing more dollars thanks to the pandemic.
Providence has conducted more than three million telemedicine encounters since January 2020. Moore is all for telemedicine.
"Obviously the hospital acute setting is critical, but really it's all about care delivery," Moore said. "The future we see is telehealth and remote patient monitoring being at the center of care delivery.
"During COVID-19, we are able to send patients home and manage their care remotely and effectively. We're fully embracing those technologies as ways of improving capacity management and patient care. This represents a big investment for us."
"We actually are in preliminary discussions on the feasibility of some type of hospital at home. I can tell you from experience these solutions are not inexpensive to implement and may not produce the cost savings advertised as many require a similar level of infrastructure and clinical support as conventional patient care practices.
"We will be spending R&D-type dollars on these technologies, but it is unclear exactly which will pan out. Five years is an eternity in the technology world. Where we were five years ago is entirely different than today."
Definite funds for telemedicine
Telehealth has shown great promise to bridge gaps in the areas of rural health and access to specialized care since a decade ago, when Regenstrief researcher-clinicians pioneered the value of telephone-based care management delivered by nurses for cancer-related pain and depression, said Tachinardi of Regenstrief Institute.
"Given the pandemic, telehealth is a rapidly growing area that fills an expanding need," he said. "Regenstrief continues to make investments in implementing and testing telehealth. Currently, we are evaluating patient portals from health systems across the country and identifying issues that make the portals inaccessible or hard to use.
"Through this work, we plan to identify best practices for portal design and successful use by both patients and clinicians," he continued. "Our work recognizes that patient portals will be an increasingly important telehealth tool for healthcare communication moving forward, which must be constructed to mesh with busy schedules and other constraints, such as reimbursement, for providers."
Regenstrief research scientists have worked with the U.S. Department of Veterans Affairs on the VA's tele-stroke program, which provides virtual access to neurologists in hospitals where one is not on staff or is unavailable.
With the support of a new five-year VA grant in 2020, the research team is expanding the VA's telehealth neurology and pain program to provide chronic-pain management via telehealth, and broadening what the institute calls tele-GRACE, to extend the reach of geriatric home and community-based care management via telehealth.
"Telehealth also can be used to deliver collaborative care, a model that Regenstrief research has proven to be effective from both the patient and provider perspectives," Tachinardi said. "Our researchers are exploring the potential of incorporating telehealth in interventions to treat chronic pain, depression, anxiety and other chronic conditions."
Customized app development
Over the past 18 months, telehealth has emerged as an integral component of care delivery for many institutions, said Restuccia of Penn Medicine.
"Similar to the retail industry, those healthcare organizations that had an ability to electronically engage with their customers/patients were able to advance," he said. "Without such capabilities, organizations will experience more difficulty sustaining and evolving. Some may even perish.
"By leveraging existing telemedicine vendor relationships and building a strong collaboration between information services and the clinical community, Penn Medicine was able to rapidly scale our telemedicine visit capacity along with the onset of COVID-19," he continued. 
"This electronic bridge combined with our unique capabilities offered through the Penn Medicine home care division provided unparalleled strength in times of uncertainty."
With more than 800 clinicians providing at-home patient care services within the region, the combination of telehealth visits and home care visits continues to serve Penn's patient population and expand patient care access in the most convenient and affordable manner, he added.
"As a result, we will continue to leverage our vendor-provided telemedicine capabilities and augment these capabilities with customized application development efforts to maximize the patient-clinician telemedicine experience," he said.
Investing in consolidation
As was the case with most healthcare provider organizations, COVID-19 accelerated OhioHealth's pace rolling out virtual care. During the course of the pandemic, 1,400 caregivers have been trained and have performed some manner of virtual visit. Currently, 10% of ambulatory visits are video-based. And telehealth has sustained even between COVID-19 surges.
"Prior to and during the pandemic, we have had a broad effort to consolidate systems and onto a common platform," explained Kramer of OhioHealth. "The level of complexity in virtual health was high and prevented a consistent approach and consistent support. It has been a complex experience for patients.
"Consolidating onto a single video, portal and EHR has been both strategic and required substantial investment," he said. "In addition to technology investments, our organization committed to developing a cross-matrix virtual health product team. This team combined our EHR expertise, human factors expertise, clinical informatics and digital design."
Through the effort of this team, OhioHealth created an iterative cycle of workflow, technology, change management and patient experience improvements as an enterprise standard, he added.
"From this we are sustaining our virtual health model," Kramer said. "With these iterations, our virtual health no-show or failure-to-connect is less than 5%, and patient experience scores continue to improve."
Hospital-at-home
Prior to COVID-19 hitting, South Shore Health had been working on a connected health/RPM strategy that was driven in part to work with the provider's accountable care organization, population health program and mobile integrated health platform.
"Healthcare needs to be delivered at the right place, at the right time, and the use of telehealth and connected health tools allow for proactive care before it leads to an emergency room visit," said Babachicos of South Shore Health. 
"Additionally, we are exploring connected health technology to pilot hospital-at-home technology where it may offer alternatives for some patients who would normally be admitted to the hospital.
"In the hospital in the home model, we may be able to use connected health technology and sensors in the home, along with clinical staff to offer high-acuity services," she continued. "Services such as these can allow the patient to stay in their home, where they often prefer to be, and it can also free up high-demand beds in the acute setting."
Leadership believes in telemedicine
In 2020 alone, Sanford Health provided approximately 300,000 telehealth visits. As the nation's largest rural health system, it is committed to making significant virtual care investments to deliver the right care to its patients when and where they need it, close to home.
"Beyond video visits, e-visits and nurse triage systems, we have also invested in remote diagnostics for our patients through our partnership with TytoCare," said Hocks of Sanford Health. 
"In the past year, we've had more than 1,000 patient visits utilizing this technology, which provides patients with a comprehensive exam kit to perform a guided, remote medical exam of the ears, lungs, heart, skin, abdomen and temperature.
"We anticipate sustained growth in direct-to-consumer virtual care and new opportunities to create hybrid models bringing the best virtual care technology together with in-person care," he continued. "We also see an evolving business case for these technologies, particularly with emerging and sustained workforce challenges."
Sanford Health recently announced a transformational $350 million philanthropic gift that will support a clinical initiative to create a virtual care center and provide access to care in rural and underserved areas of the Midwest.
"The initiative will include the development of a virtual hospital in Sioux Falls, South Dakota, connecting hundreds of our existing clinics, hospitals and long-term care facilities," Hocks explained. "We also plan to establish pilot satellite clinics designed to foster nurse-patient engagement while connecting virtually with specialty physicians.
"The virtual care center will focus on innovation, education and research initiatives to advance digital health solutions for the future," he continued. "Our leadership team strongly believes that investing in virtual care will be a necessary strategy moving forward to address the current challenges and opportunities specific to delivering care across a rural geographic footprint."
Resources for remote patient monitoring
Mistretta of Virginia Hospital Center cautions that it remains to be seen where the telehealth market is going as it will depend on the long-term reimbursement picture. He believes telehealth will be a viable option. After the huge surges of 2020, telehealth visits have remained at 25% of Virginia Hospital Center visits. He expects that to hold steady unless the reimbursement changes.
"We are definitely moving forward with investigation of remote patient monitoring as we see this is a piece of our continued growth strategy," Mistretta added.