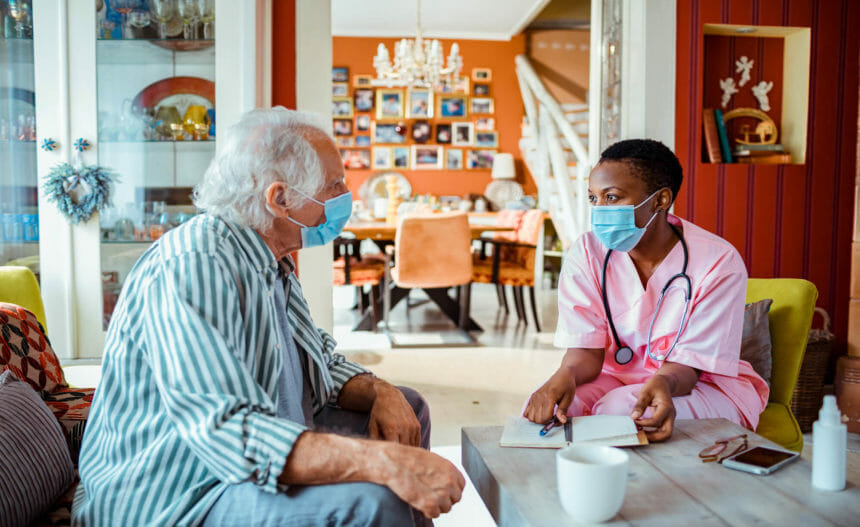 by Liza Berger
The pandemic has helped to give rise to innovative models such as hospital-at-home and skilled nursing facility (SNF)-at-home. But to be part of these programs, home health agencies need to prepare. That is according to a home care CEO and a technology expert, who spoke Tuesday at the National Association for Home Care & Hospice's Financial Management Conference.
The pandemic helped to rapidly accelerate the trend toward home care, said Charles McDonough, CEO of Interim HealthCare of the Upstate, of Greenville, SC.
It was the "fortunate and unfortunate black swan" in terms of what needed to occur in healthcare, he said.
The focus on total cost of care, evolving patient preferences, data and artificial intelligence, the adoption of virtual care and improved triage of patients are all helping to shift care into the home, he said.
Home care in the future will be a hybrid model in which virtual care will complement on-site care, said Joseph Brence, head of home and community care strategy and solutions for MedBridge.
Among those pandemic forces fueling the move toward virtual care, the consumer became more aware of infection control and safety implications of going into acute-care hospitals, he said.
"They are now desiring and asking for more accessible care," he said.
The public health emergency also helped to make clear that "the walls surrounding traditional healthcare models are not always necessary," Brence pointed out.
Hospital-at-home requirements
Hospital-at-home is growing fast, the speakers noted. As of April, 116 hospitals in 53 systems across 29 states had Medicare-approved hospital at home programs, Brence noted.
Among the key components of a hospital-at-home program are the ability to monitor patients on a 24/7 basis; a contracting and supply chain; and a ready and willing workforce that can practice acute care in the home, he said.
The Centers for Medicare & Medicaid Services requires contractual services to ensure the right individuals go into the home and there is an infusion pharmacy. There also must be two nursing visits per day. Moreover, agencies must be able to provide emergency triage services and respond after hours.
Like hospital-at-home, the SNF-at-home model is expanding. Brence predicts a 25% rise in this type of service. It is more therapy-oriented than hospital-at-home, he said. Barriers existed for this model previously because infusion nursing wasn't up to capacity as it is now.
Considerations
To be part of these models, agencies should consider which one is right for them, find the right partners and have the right technology. They will also need to think about their payment structure and whether revenue will come per patient, per visit, shared savings or a combination of all.
Given the workforce strain on the field, workforce is the biggest challenge, both Brence and McDonough said. Staff early and often, McDonough said.
"Hire more," he said.
Staff will not be traditional hires, instead being highly skilled nurses such as those from cardiac rehab or the intensive care unit.
"When it's not your traditional hire you have to think outside the box," McDonough said.