Managing diabetes is no easy task – it requires making concerted changes to your daily routine including diet (what to eat and avoid), exercising and moving more and eliminating bad habits (smoking, excess alcohol and disruptive sleep). These changes can be mentally draining and one of the reasons why people living with diabetes (Type 1 or 2) are at increased risk for anxiety, stress and depression.
So in this blog, I'll share some evidence-based self-care tips to keep your spirits up while managing diabetes.
Aromatherapy
Essential oils have been widely used for centuries for managing stress, anxiety and depression and are effective due to their ability to access the area of the brain that impacts mood. Research indicates that smells are first processed by the olfactory bulb in the nose which has direct connections to the areas of the brain that are associated with emotion and memory (the amygdala and hippocampus). Also, this study demonstrated the efficacy of lavender oil on sleep quality, mood status and quality of life for participants with Type 2 diabetes. 
You can use a diffuser (they are widely available with many inexpensive options) with water and several drops of lavender oil. Here are some to try:
Diffuser:
Lavender essential oil: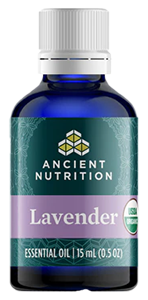 Here are my top 10 essential oils for stress and anxiety.  https://community.wholistics.health/top-10-essential-oils-for-stress-and-anxiety/
Exercise
Consistent exercise is not only a cornerstone of diabetes management but physical and mental health are inextricably linked as each has an impact on the other. According to this study, 12 weeks of aerobic exercise training had significant effects on mental health, self-esteem, anxiety and insomnia of Type 2 diabetic patients. So it's important to get moving – go for a vigorous walk, hike or find a team sport that you like to engage in. You need about 150 minutes of exercise a week so aim for 30 minutes 5-6 times a week.
Meditation
Meditation is the practice of focusing one's mind for a period of time and being in the present moment. This is often done in silence but can include bells, chanting and music. There are many different forms of meditation (guided, transcendental, mindfulness, etc.) which I won't go into here – what's notable is that meditation has been clinically linked to improvements in psychological health which, in turn, affects physical health. This study showed that meditation can impact stress reduction, blood sugar control and blood pressure in diabetic patients and advocates meditation strategies as part of the lifestyle modification to improve patient wellbeing.  
How about this 20-minute guided meditation to reduce anxiety and stress:
Music
Are you aware that music therapy has been shown to improve outcomes in diabetes patients? In this study, music-assisted relaxation and music therapy showed significant changes in systolic blood pressure, and anxiety and stress levels in both Type 1 and 2 diabetic patients. Here are some beautiful relaxing tunes to bring you inner calm and joy:
Routine
Having a regular routine to get your day off to a good start each morning can help you make the necessary changes and create healthy habits to manage diabetes. Studies have shown the importance of a routine to gradually incorporate lifestyle changes that will be sustainable for the long-term.  Routines can actually help you better manage stress and anxiety as this study found.
So, focus on things that you can control and make a list of things you typically do in a day. Include the tasks that are needed to support your health like exercise, prepping for meals, and shopping for groceries, and make it a priority on your list. Then experiment with the times of the day that make you most compliant (for example, I am 99% more likely to stick with an exercise regimen if I work out in the morning) and plan these activities around these times. Last but not least, a well-established routine takes time so give yourself some grace if you don't complete all the key tasks each day. There's always tomorrow…
Yoga
Yoga is a physical, mental and spiritual ancient Indian practice which is designed to promote physical and mental well-being. The well-established benefits of yoga practice are accelerating its growth and it has now become mainstream. This study showed the benefits of yoga practice in improving the stress response by our sympathetic nervous system (which controls our fight or flight behavior).
Yoga is also effective in improving physiological markers of health with this study showing the impact of a yoga protocol on total cholesterol, LDL and triglycerides reduction in Type 2 diabetic participants. What's not to like about yoga? If you are like me and don't have much patience, start with a short practice and build up from there. How about this 10 minute yoga to try:
It's important to talk to your healthcare provider if you are struggling with mental health issues so that appropriate care options can be discussed. Remember that you are in charge of your life so speak up and ask for help.