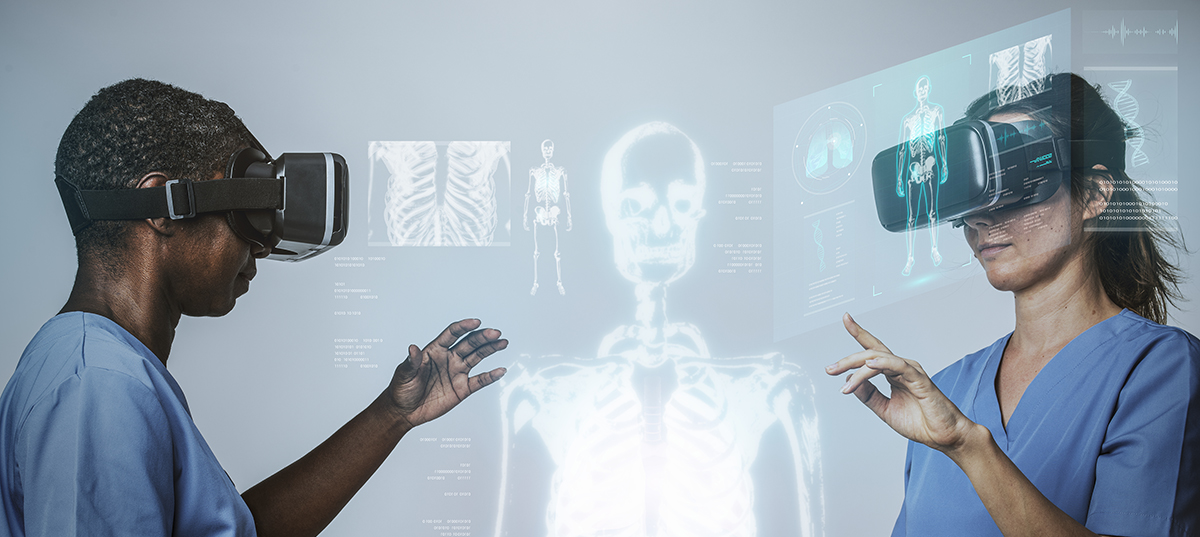 Doctors and nurses don't have easy jobs. It takes years of training to prepare for the medical field fully and then lots of ups and downs to establish yourself as a reliable professional. Fortunately, there are some incredible virtual reality (VR) innovations that can help out.
Many aim to comfort patients, too, even by just showing how much care has gone into improving a range of procedures with superior technology. Virtual reality offers new perspectives and opportunities to at least nine major aspects of healthcare.
1. Stress Relief
VR technology is used to reduce stress in both patients and medical staff. Whether you're waiting to have an operation or actually perform it, there are different programs available to take your mind off the situation or even to help focus it.
A Frontiers in Psychology study on personalized VR experiences for relaxation published in 2019 highlights two popular systems. One immerses the viewer in generic but beautiful virtual landscapes, while the other is for interaction, stimulating and calming the brain at the same time.
Hospitals in Italy, the UK, and other countries are officially trying out VR experiences, courtesy of brands like BehaVR and VRelax. Since stress can cause all kinds of problems, from complications to errors, this is an invaluable way to use the technology.
2. Patient Education
Knowing what's going to happen to you in the operating theater can help manage your emotions and stress just as much. If the idea appeals to you, more medical centers are gradually offering insights through virtual reality.
The benefits are clear, especially thanks to research such as the Annals of Vascular Surgery in 2018. 19 patients with abdominal aortic aneurysms watched 3D models in VR headsets explaining their condition.
The final survey showed that almost all patients enjoyed the experience and felt better informed and interested in their own health. If nothing else, such VR programs can include patients in the healthcare process and improve their relationships with doctors.
3. Medical Diagnosis
Bridging that gap between you and your medical professionals is a major plus with VR in healthcare. It's even more effective while going through treatment together, starting with the diagnosis, all of which is possible through virtual reality.
Take EYE-SYNC, for example, an invention by SyncThink for eye problems. From headset to software, it's specially designed to track and assess your ocular movement and condition. Based on the diagnosis, your doctor can then prescribe the best treatment.
Other innovations like XR Health actually serve as a platform for patients and doctors to connect remotely. You can access your data, consult your therapist, and complete prescribed exercises, a perfect addition to any other tools like these handy medical apps for Android and iOS.
4. Anatomical and Physiological Representation
If patients have access to high-tech visuals, imagine what healthcare professionals can do with VR. First of all, doctors need to be just as informed about your condition before taking action, so programs like Surgical Theater, Proprio Vision, and ImmersiveTouch are very helpful.
What they do is create a 360-degree representation of whatever the doctor needs. They can study your skeleton, organs, brain, and so on in minute detail alongside extra information drawn from your diagnosis.
Planning surgery is safer and easier, but some VR experiences are also used during operations. The human eye can only see so much, so having a computer's vision and knowledge back you up can boost confidence and performance.
5. Medical Training
In terms of education through VR, medical staff get even more perks than patients. Apart from 3D renderings of anatomy and physiology, they enjoy training programs for a range of practices. As it turns out, it can also be cheaper than physical simulations.
Systems like FundamentalVR, Health Scholars, and Touch Surgery, for example, can prepare surgeons for different situations under safer and less stressful conditions. Scenarios and levels of difficulty vary while providing feedback and measuring performance.
According to a 2019 Future Healthcare Journal review of existing studies, medical fields are slow to embrace VR training, mainly because of the limits in how much you can learn from it. Yet, the technology is praised for procedures like transvenous lead extraction, resuscitation, and just communicating with patients.
6. Robotic Surgery Training
Surgeons today can rely on actual machines—not just virtual images—to complete difficult operations. The catch is that they need to learn how to use the robots and stay calm and focused throughout the process.
That's where virtual reality comes in. The experience is the same as any other VR medical training, except that it's a lot more rigorous. There's also extra pressure in honing your skills to avoid serious problems in the operating theater.
On the plus side, the status of robotic surgery means that there are lots of VR options. Companies like Mimic Technologies, 3D Systems, and Vicarious Surgical are pushing healthcare boundaries even further.
7. Physiotherapy
VR programs improve all kinds of health issues, whether alone or with a specialist's help. Physical therapy is one of them, applying the technology to full-on rehabilitation and soft exercises for keeping your body active and alert.
Once again, the technology has room for improvement, but VR developers have some of your physiotherapy needs covered. For example, the immersive and interactive environments created so far do wonders for motor, reflex, and balance skills.
Morale benefits just as much and not just from the exercises. The power of building workout habits through online and mobile apps, not just high-end VR, is in the motivation people need to stay strong.
8. Chronic Pain Treatment
Exercise and entertainment are key factors to relieving pain as much as anything else. Available VR options go beyond generalized platforms like XR Health. Karuna is one alternative with equipment and professional health coaches dedicated to treating chronic pain.
ot unlike VR experiences for physiotherapy, patients follow routines designed to build pain-free range of motion. You can also feel safe knowing that the best solutions around are up to date with relevant sciences, which in this case includes neurology, physiology, and neuropsychology.
9. Psychological Treatment
As already mentioned, VR technology in healthcare can help manage emotions as well as behaviors. Put on a headset, and you can go through simulations and therapy sessions to unlock your mental health.
A lot more goes into developing and using a solution like OxfordVR, but it all comes down to giving you a digital platform to discuss and resolve psychological issues. In fact, several studies confirm how successful virtual reality can be in this department.
An experiment took place in 2018 to test if VR experiences could reduce fear of heights. The findings, available in The Lancet Psychiatry, were very positive, especially in comparison with standard therapy.
Expand Your Search for Technologies That Improve Healthcare
Virtual reality is a big part of the digital age and it continues to evolve. It's good to know that VR developers don't focus on entertainment but strive to boost our quality of life in general, healthcare being one of many areas of interest.
If the field of medicine is important to you, it might be worth exploring other tools on the market—health journal apps, fitness trackers, therapy websites, and more. You never know what might come in handy.