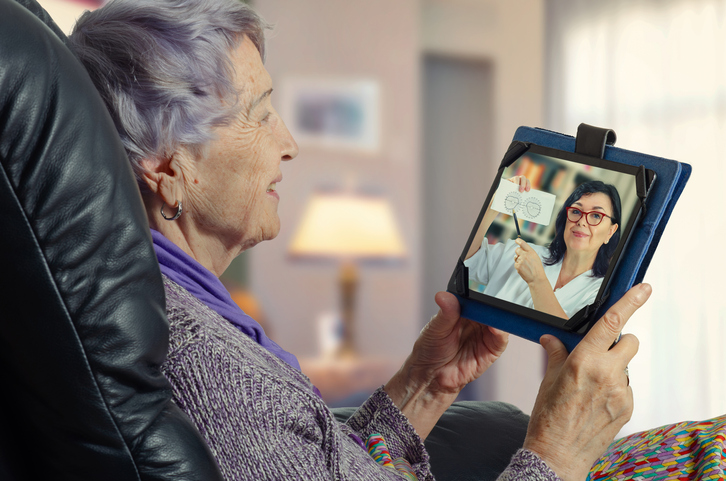 Telemedicine and virtual care are no longer optional for healthcare practices. Covid-19 catapulted virtual care from an ancillary service to a staple of modern healthcare and has shown to be a positive addition for all parties involved.
In fact, Deloitte predicted Medicare Advantage plans that don't embrace telehealth "will get left behind." The Centers for Medicare and Medicaid Services (CMS) has already made several important updates in the last year to incorporate billing codes and necessary changes to ensure telehealth services can be offered to all Medicare users.
But nothing is without its challenges. One of the most pressing issues today is how to ensure virtual health is accessible to seniors and does not impede their access to quality care.
Seniors and technology
A common misconception is that the majority of seniors are hesitant to adopt technology. An AARP study found that 77% of older adults have a smartphone. However, another study found only 11% of seniors said they were comfortable using telehealth capabilities on their smart device.
There are also bigger, more serious reasons why a large number of seniors are unable to use telehealth services. As adults begin to age, they can expect to see a rise in health issues, such as hearing loss or impaired vision, which can make it difficult to read, type or hear. Technological advancements seem to evolve daily but little has been done to ensure the digital inclusion of the elderly, further isolating a population with minimal digital skills to begin with. Finally, mounting financial burdens like the surging costs of long-term care, housing and assisted living situations, and medical expenditures make it hard for people to afford smart devices or the internet.
To make virtual care more accessible for seniors, consider these four areas:
How virtual care is presented is just as important as the technology itself. Let your senior patients know why you recommend virtual care and the benefits and learning curves that come with using it. Give them clear detailed steps explaining what to expect, what devices they might need and how to obtain them, and who they can reach out to for help.
Provide technology support specifically geared towards senior patients. A study from GoHealth found that three in five Medicare users did not know how to use video call technology. Seniors can take longer to adjust to new technology, but most will do well with a little time and patience. Give your senior patients an easy way to reach out if they are having trouble. Also consider meeting with the patient over the phone to help them practice using the technology ahead of their first appointment.
Offer personal care navigators to support seniors throughout their healthcare journey. Some Medicare Advantage plans offer personal care navigators who can help seniors to better understand their benefits, make appointments and refill prescriptions. This type of personal support can be extremely effective in helping seniors adapt to virtual care. They become accustomed to speaking with someone about their healthcare needs outside of a traditional doctor's office and their care navigator can also be a resource to ask questions and get personal technical support. A care navigator can also offer to help test technology and help the patient become more comfortable using video conferencing and telehealth.
Focus on simplicity. Make installation and set up as easy as possible. Avoid plug-ins, downloads and logins if at all possible. Consider patients that might have auditory or visual impairments and how they will interact with your virtual care technology. While younger patients might enjoy a more visual experience with more features, this might be distracting and confusing to senior patients.
The research tells us that seniors have the tools and the ability to adopt new technologies. As telehealth becomes mainstream, seniors will be forced to adapt – but we as healthcare providers have a duty to make this process as seamless as possible, so one of our most vulnerable populations does not get left behind. We have an opportunity, and a responsibility, to make healthcare access easier and more valuable for our senior patients through virtual care.