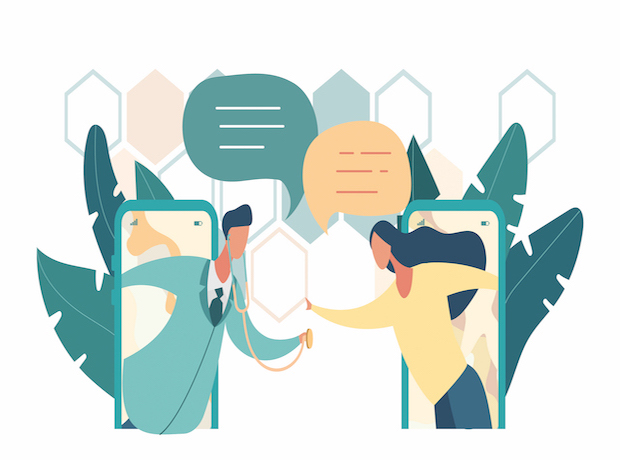 By Brad Michel
On June 29, WHO chief Tedros Adhanom Ghebreyesus warned during a virtual press briefing, "Although many countries have made some progress, globally the pandemic is actually speeding up". Indeed, in the US alone, we are witnessing rising numbers of daily new infections in many states. Given this backdrop, it is safe to assume that COVID-19 is continuing to impact how people access healthcare. And therefore, it's important to understand patients' options to ensure they can maintain ongoing care for non-COVID-19-related illnesses.
In May we set out to understand what changed for patient care during COVID-19, how patients felt about it, what they liked and what they want to continue in the future as a result of the early stages of COVID-19. After all, understanding how attitudes and behaviours of patients are shifting during this time will help life sciences companies invest in a future where the patient experience continues to be enhanced through virtual options for communication and treatment.
We found, not surprisingly, that patients have embraced virtual care and communications at very high rates as a result of COVID-19, but what may surprise some is that nine out of 10 reported the quality of care was as good or better than before, according to our survey of 2,700 oncology, cardiology, or immunology patients globally.

Sixty percent said that based on their experience during the pandemic, they want to use technology more for communicating with healthcare providers and managing their conditions in the future.
That may initially seem surprising but consider the experience of patients. As restrictions came into effect, patients faced difficult choices about whether and how to continue their treatments. Many healthcare providers cancelled appointments, and transportation options were shut down. Patients were afraid to risk exposure to COVID-19 by going to their healthcare providers for regular treatment, and many (70%) deferred or cancelled at least some elements of their treatment.
Then the availability of a certain amount of treatment from home via video conferences calls, online chats and apps became an option. Doctors set up telehealth meetings and were able to focus on the individual patient solely during that conference or they answered questions quickly via chats, and apps were made available for monitoring. Sixty-three percent of those who used video conferencing said it was very good or excellent, an impressive response given 70% were using video conferencing for treatment for the first time.
However, the success rate shouldn't be that surprising. Think about it: The patient didn't have to commute, and didn't have to sit in a waiting room, nervously looking at other patients who were waiting as well. Yet, patients still received one-to-one direct care from their doctors. No wonder that by using technology to support communication and care, healthcare providers were largely able to maintain or even improve on the patient experience.
Forty-seven percent of respondents said they received better, more personalised responses;
Forty-one percent said they experienced quicker responses
Forty percent said care was more convenient to access through new communications channels.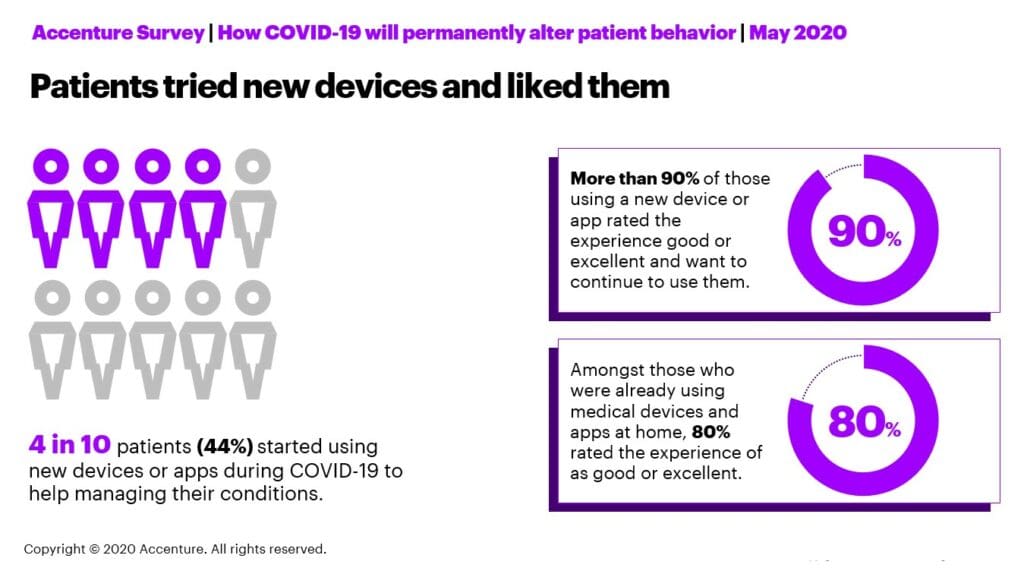 In addition, overall trust in the healthcare system has also increased. Sixty percent of patients surveyed said their trust in healthcare providers have increased, and 45% said their trust in pharmaceutical and medical device companies has increased. The value of this viewpoint cannot be overstated. It is an important momentum for the industry to maintain.
Several in the industry have taken steps to demonstrate compassionate care.Consider how Bristol Myers Squibb expanded its existing patient support programs to help eligible unemployed patients in the US who have lost their health insurance due to the COVID-19 pandemic. Its expanded program offers access to any branded BMS medicine for free. Similarly, Eli Lilly introduced the Lilly Insulin Value Program, allowing anyone with commercial insurance and those without insurance at all to fill their monthly prescription of Lilly insulin for $35.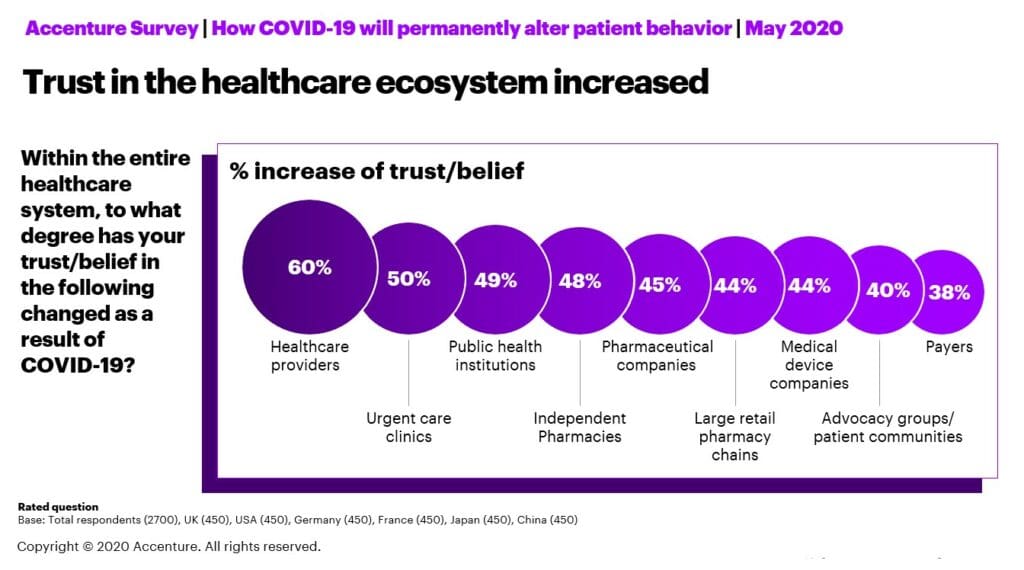 Virtual care and clinical trials
Worryingly, many clinical trials were disrupted by COVID-19. Seventy-seven percent of patients said their clinical trials were suspended or delayed, which could have a knock-on effect on the speed in which new treatments come to market. However, for trials that continued, the use of virtual care was critical for consultations, treatment, and monitoring. Consider that 61% of patients whose trials continued used some form of virtual communication or care.
We think there is an opportunity to increase the use of virtual care in clinical trials. Patients certainly expressed a desire for more of it – and more involvement in the clinical trial decision making process. Patients told us they want more video conferencing and fewer clinic visits, which would make clinical trials more convenient and accessible. They also want to be consulted more about how trials are conducted. It turns out that only 14% of the surveyed patients who were in trials when the pandemic hit were actually consulted about whether the changes to the trials would work for them. This held true across all therapeutic areas and geographies. Involving the patients in the process is an easy fix that the industry should take on board. Using virtual technologies as a regular part of the clinical trial process would not only improve resilience to disruptions but would help to improve the patient experience.

The pandemic has forced the healthcare ecosystem to embrace digital tools they previously used sporadically or without enthusiasm. While the use of virtual tools during the pandemic may have been ad hoc or as a quick-fix to an urgent issue, it is time to think about industrialising those practices and the longer-term use of digital to transform and improve patient care. After all, virtual care is here to stay. In the future, those who do it best will differentiate themselves from the pack.